BIOETHICS
Embryos, Stem Cells, and 'Personhood' Initiatives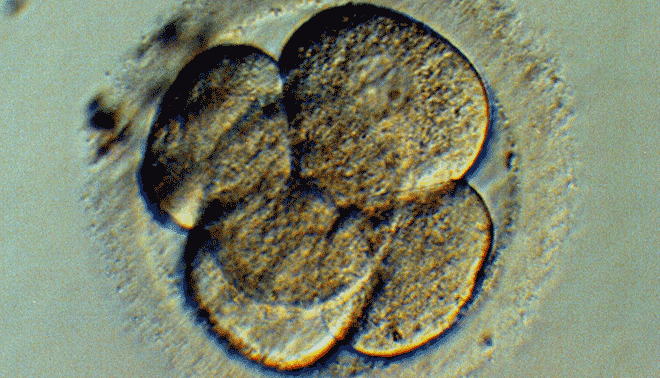 SOURCE: AP/Bourn Hall Fertility Clinic
Just as Mississippi prepares to vote on a ballot initiative that would define single-celled human embryos as "persons," the journal Nature is about to publish a paper that demonstrates progress in using human embryonic stem cells to treat Parkinson's disease symptoms in lab animals. Rarely in one week has there been such a dramatic contrast between a promising stem cell experiment and the political process.
Mississippi's Initiative 26 and other such "personhood" efforts in several states are intended to target abortion services but they could also be interpreted to limit access to contraception (if they are seen as embryo-destructive), in vitro fertilization (which often involves the creation of more embryos than are used), and human embryonic stem cell research (which requires the destruction of a human embryo).
There is other evidence that, unlike the George W. Bush years, the culture wars around the life sciences have moved to the state level, which makes these incidents harder to track than when they are in the high profile of national politics. For example, in my experience hardly any scientists are aware that more than two years ago Gov. Bobby Jindal (R-LA) signed into law a bill that prohibits the creation of "human-animal hybrids" in the state. Similar legislative activity is brewing in other states.
Notably, these efforts have more momentum in states that are not leaders in cutting-edge biology. A personhood initiative has failed twice in Colorado, where the biosciences industry is thriving, though one can be sure that the Mississippi movement will not be the last.
Those of us who oppose these measures tend to interpret them not only as threats to women's reproductive health and rights but also as attacks on science. As I point out in my new book, The Body Politic, however, the advocacy groups behind these well-organized initiatives also like to claim the mantle of science. The director of Personhood USA has been reported as asserting that "The unborn child in the womb is scientifically proven to be a human being." The question is not whether single-celled human embryos are human, but whether they are persons–an issue that is elided in this statement.
Nonetheless, one wonders if these groups' enthusiasm for "scientific proof" will extend to human embryonic stem cell research. Consistency demands nothing less.
Jonathan D. Moreno is the David and Lyn Silfen University Professor at the University of Pennsylvania and a Senior Fellow at the Center for American Progress. His new book, The Body Politic, examines the battle over science in America.
Comments on this article
By clicking and submitting a comment I acknowledge the Science Progress Privacy Policy and agree to the Science Progress Terms of Use. I understand that my comments are also being governed by Facebook's Terms of Use and Privacy Policy.