SCIENTIFIC INTEGRITY
Overdue and Underdone
Scientific Integrity Guidelines Set Lofty Goals that Have Yet to Materialize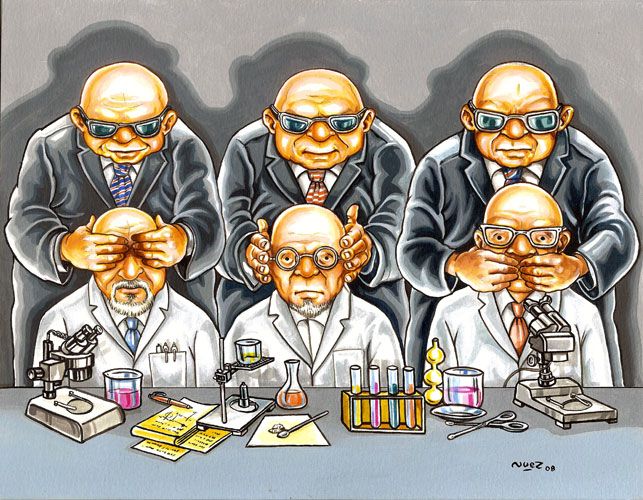 SOURCE: UCS 2008 Science Idol Finalists/Raul de la Nuez
Skip to the Obama administration scientific integrity timeline.
In his inaugural address, President Barack Obama received applause when he spoke of restoring science to "its rightful place." But October marks 31 Months since the Obama administration released a presidential memorandum about restoring scientific integrity to federal decision making, and still there is no government-wide policy. Nearly two and a half years later, just a handful of agencies have draft or final policies out for public review and/or comment.
For those expecting that this administration would be better for science than its predecessor, or better for government-employed scientists, the progress has been disappointing. Only now has there been notable agency activity on scientific integrity that the public can examine for itself.
While the Office of Science and Technology Policy recently noted that 19 departments and agencies have submitted draft or final policies on scientific integrity, very few are available to the public. You can review status reports, drafts, or final versions of policies from the following agencies:
Some of the publicly available policies seek public comment. The deadlines for comments vary between agencies but are coming quickly.
These policies are not operating in a vacuum. The National Science Foundation and the Environmental Protection Agency are two agencies that already have developed policies related to conflicts of interest and other policies for conducting scientific research. The National Institutes of Health has an entire office on research integrity and is looking to update a key regulation on conducting research involving human subjects. But considering the government overall, the progress on developing, implementing, and executing policies on scientific integrity lacks cohesion, coherence, and support.
The Office of Science and Technology Policy, or OSTP, has indicated it would develop a policy governing its own conduct but has been silent on any government-wide policies. Certainly each government agency has different needs, uses, and resources for scientific and technical information, complicating any all-inclusive framework. But an absence of an overarching policy—even to address whether or not agency decisions on scientific integrity issues could be appealed to OSTP—seems inconsistent with the broad focus of the presidential memorandum that started it all.
Looking at the few agency draft policies that are available, the focus appears mostly on ensuring the proper conduct of agency scientists. While taking a firm stand against scientific misconduct is welcome, ensuring scientific research is properly used in government decision making is the responsibility of nonscientists as well as scientists. The policies released to date do not provide much detail on how nonscience agencies are supposed to incorporate science into their decision making. Only the Department of Commerce memo is explicit about the ability of agency scientists to communicate their research to the public.
More direction and more communication from the Office of Science and Technology Policy would be welcome. Political interference with scientists (or at least the appearance of it) has not disappeared since the presidential memorandum was signed. In fact, federal agencies since then have had to fend off criticism after criticism for their scientific practices.
Take for example the high-profile and poorly-explained abandonment of ozone pollution rules EPA scientists said were necessary to human health; or the sloppy editing of an Interior Department report justifying the 6-month deepwater drilling moratorium following the 2010 BP oil leak, which gave the appearance of misrepresenting scientific advice in the executive summary of the document, even if the advice was better represented in the full document. Or take the story of Charles Monnett, the Interior Department scientist who either was or wasn't being investigated over concerns about his research, depending on what press report you read. After suspending and reinstating him and continuing an ongoing investigation, the Interior Department is now responding to a complaint that their investigation has violated the Department's scientific integrity policy
Many of these controversies were driven by appearances more than substance, but that is all the more reason for the Obama administration to push harder to implement a transparent and wide-reaching scientific integrity platform. Unfortunately, the lack of transparency over the development of agency scientific integrity policies has been as much of a problem as any weaknesses in the policies themselves we have seen so far. In the absence of specific scientific integrity guidelines to refer to, the administration has faced legal action (see the timeline below) and an added angle for congressional criticism that could have been mitigated or eliminated. Maybe this will change as more agencies release drafts and final policies for public view.
Of course, just because a scientific integrity policy exists, doesn't necessarily mean the agency will uphold it. The first case under these policies—currently underway at the Interior Department—will determine if these policies are going to be more than words on paper. Done right, these efforts to establish fundamental scientific integrity reform in federal agencies could be great policy and good politics. But it seems continued attention and outside pressure will continue to be critical if we are to truly "restore science to its rightful place" in American politics.
OBAMA ADMINISTRATION SCIENTIFIC INTEGRITY TIMELINE
January 20, 2009 | President Obama says "we will restore science to its rightful place" in his inaugural address.
March 9, 2009 | President Obama issues a presidential memorandum on scientific integrity, "directing the head of the White House Office of Science and Technology Policy to develop a strategy for restoring scientific integrity to government decision making" within 120 days.
May 9, 2009 | The Environmental Protection Agency releases an employee memo on scientific integrity, outlining the agency's plans to comply with the presidential memorandum.
July 7, 2009 | 120 days have passed since the presidential memorandum, with no strategy apparent. As the delay lengthens, OSTP Director John Holdren notes the difficulty of preparing such recommendations and that the principles outlined in the March 2009 memo are in effect.
February 2010 | OSTP Director Holdren is asked about progress on the recommendations during a congressional hearing. The report on how to improve scientific integrity is eight months overdue.
August 2010 | Public Employees for Environmental Responsibility, or PEER, submits a Freedom of Information Act request to OSTP related to its development of the scientific integrity recommendations.
October 19, 2010 | PEER sues OSTP under the Freedom of Information Act, or FOIA, to compel disclosure of records related to the scientific integrity memorandum. The lawsuit follows PEER's August 2010 FOIA request. The next step in the case is a ruling on motions for summary judgment.
December 17, 2010 | OSTP releases its recommendations. Agencies are given 120 days to develop policies covering integrity of scientific processes, public communications of scientific research, scientists on federal advisory committees, and professional development of scientists and engineers.
February 2, 2011 | The Department of the Interior issues its Scientific Integrity Policy and appoints a scientific integrity officer.
April 16, 2011 | 120 days have passed since OSTP issued its recommendations.
April 21, 2011 | OSTP issues a scientific integrity update on its blog. It names the agencies that have submitted reports but provides none of these plans for public review.
May 5, 2011 | OSTP Director Holdren issues a new 90-day deadline for agencies to submit their draft scientific integrity policies.
May 26, 2011 | The National Institute of Standards and Technology, or NIST, posts a summary report on its work toward compliance with scientific integrity guidelines.
June 2011 | The Department of Commerce issues a guidance memo on compliance with scientific integrity principles. It notes that Commerce agencies can develop their own policies (NOAA and NIST are Commerce agencies).
The National Oceanic and Atmospheric Administration, or NOAA, releases its draft scientific integrity policy for public comment.
August 2011 | 90 days have passed since the latest deadline was announced.
The National Science Foundation and the Environmental Protection Agency release draft scientific integrity policies for public comment.
The Department of the Interior opens its first investigation into a complaint under its Scientific Integrity Policy.
OSTP issues another update, again with no draft policies available for public review. No mention is made of the policies published in the Federal Register or otherwise released by agencies in the preceding few weeks.
September 2011 | The Office of the Inspector General of the Environmental Protection Agency issues a report indicating that the agency failed to follow proper procedure in the scientific assessments for its endangerment finding on greenhouse gases.
David Bruggeman is the Senior Public Policy Analyst for the Association for Computing Machinery, or ACM, and blogs about science policy at Pasco Phronesis. The views here are his alone and do not represent the views of the ACM.
Comments on this article
By clicking and submitting a comment I acknowledge the Science Progress Privacy Policy and agree to the Science Progress Terms of Use. I understand that my comments are also being governed by Facebook's Terms of Use and Privacy Policy.