BIOETHICS
Stem Cells and "Reasonable Interpretations"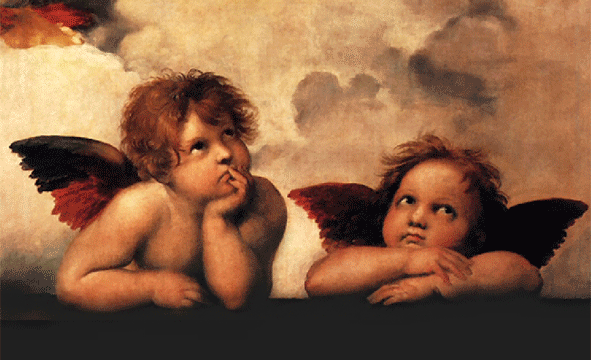 SOURCE: Raphael
Determining congressional intent may seem like a long reach from interpreting divine providence, but in the final analysis they both call on the most sincere and consistent exercise of flawed human judgments. Two recent examples, both involving embryonic stem cell research, remind us that science is creating new challenges for the moral life that we must confront in spite of these all-too-human limitations.
The first example is the welcome decision by a three-judge panel last Friday concerning federal funding of human embryonic stem cell research. Now that two of the three judges found that the government was not necessarily in violation of congressional intent by supporting this work (an interpretation that was also held by the Bush administration), the question returns to the original judge.
Nonlawyers like me may not be able to sort through the complicated technical legal questions, but we can understand the notion that executive branch agencies may make reasonable interpretations of the law. That, in essence, is what the case is about. After all, Congress's ban on support for research that destroys embryos was put in place years before embryonic stem cell research and (as the judges just found) seems to have prohibited paying for that process but not research on the cells derived from it. The importance of the case extends well beyond stem cell research and goes to the question of how involved the law should be in determining "acceptable" government-funded scientific research.
Of course, the people, acting through their legislators, have every right to decide what is paid for with their tax dollars and what is not, but at least Congress may be expected to act explicitly on these arcane matters of science funding. And where they don't do so, agencies must be expected to exercise their best judgment.
As mere mortals, it is often too much to expect more than reasonable interpretations of difficult questions, both in the law and in morality, as the other recent example demonstrates. Recently, The Washington Post reported that the first patient-subject of a human embryonic stem cell trial believes that it was God's will that he receive a transplant of cells derived from an embryo.
Twenty-one-year-old Timothy J. Atchison of Chatom, AL, is a nursing student whose spinal cord was severed in a car accident. "It wasn't just luck or chance," Atchison told the newspaper. "It's not life. It's not like they're coming from an aborted fetus or anything like that. They were going to be thrown away. … once they explained to me where the stem cells were coming from, once I learned that, I was okay with it." The local Pentecostal pastor in whom Atchison confided, and indeed his whole congregation, also had to confront the issue in a concrete way. They, too, seem to have concluded that Atchison's participation in the clinical trial was a reasonable interpretation of God's will.
Are Atchison, his pastor, and the other members of the church right? For about 1,500 years, the dominant philosophy of the West was Platonism. From Plato, both secular and theological systems insisted in perfect insight. In Plato's philosophy, only a few have knowledge of the true nature of things, knowledge that could only be obtained through divine inspiration. Infallibility finally lost its chokehold on Western thought through the Enlightenment, which emphasized experiment and demonstration rather than allegedly divine insight. A natural aristocracy was replaced by merit and the hard work required to understand the nature of reality. The same applies to morality, as we have learned that there are few easy choices. In so many ways, we are still learning to rely on our own best angels rather than the fantasy of perfect wisdom.
Comments on this article
By clicking and submitting a comment I acknowledge the Science Progress Privacy Policy and agree to the Science Progress Terms of Use. I understand that my comments are also being governed by Facebook's Terms of Use and Privacy Policy.