LIFE SCIENCES
Did the Vaccine Industry Manipulate the WHO to Sell H1N1 Shots?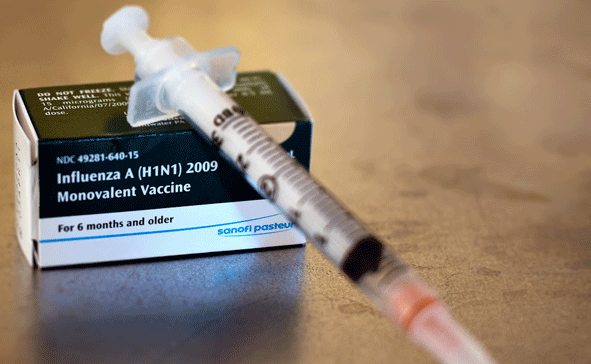 SOURCE: Flickr/ghinson
Just about a year ago the Parliamentary Assembly of the Council of Europe announced a bizarre inquiry. They launched an investigation to establish to what extent pharmaceutical companies connived throughout 2009 to gin up a global panic about swine flu. They suggested that industry was behind a conspiracy to make sure that people all over the world were vaccinated against H1N1 flu. In particular, they cited the crafty pharmaceutical industry's manipulation of the World Health Organization to promote this diabolical scheme.
A key reinforcement for their inquiry was an article in the British Medical Journal, or BMJ. Co-authored by Deborah Cohen, the BMJ features editor, and Philip Carter, a journalist who worked for the Bureau of Investigative Journalism in London, the article claimed to have found secret ties between vaccine manufacturers like Glaxo and advisors to the WHO on pandemic flu. The article stated,
"…our investigation has revealed damaging issues. If these are not addressed, H1N1 may yet claim its biggest victim — the credibility of the WHO and the trust in the global public health system."
Antivaccine groups gleefully received all this conspiracy theorizing. Websites bubbled over with comments like this one:
"The step is a long-overdue move to public transparency of a 'Golden Triangle' of drug corruption between WHO, the pharma industry and academic scientists that has permanently damaged the lives of millions and even caused death."
And why exactly would the allegedly corrupt experts consulted by the WHO recommend worldwide vaccination against H1N1? Because, to cite one sadly typical antivaccine website,
"They say WHO 'had no choice' but to declare a pandemic and recommend vaccines, since vaccines are the only treatment option for influenza. That's a lie, of course: Vitamin D has been scientifically proven to be five times more effective than vaccines at preventing influenza infections, but WHO never recommended vitamin D to anyone.
The entire focus was on pushing more high-profit vaccines, not recommending the things that would actually help people the most. And now we know why: The more vulnerable people were to the pandemic, the more would be killed by H1N1, thereby 'proving' the importance of vaccination programs."
That's right—the whole pandemic flu scare was driven by the desire by hired expert stooges to hide the preventive powers of Vitamin D so drug companies could profit. Many had to die in order that Flintstone's vitamins not live.
By July 2010 the Parliamentary Assembly of the Council of Europe had issued its report. They saw evidence of a lack of transparency in the deliberations leading to the call for widespread vaccination against H1N1 on the part of the WHO. They called for more openness in future in identifying experts and their industry ties and in making public health decisions. They essentially reinforced the crackpot conspiracy views of the antivaccine movement.
On January 5 of this year, the very same journal that gave credence to the idea that H1N1 vaccination efforts were nothing but a pharma business conspiracy, the British Medical Journal took a very different tack about experts. They collectively wrung their editorial hands over the 1998 publication in rival journal, The Lancet, of a paper by then-doctor, now defrocked self-proclaimed autism healer Andrew Wakefield. In that paper Wakefield claimed to have found the cause of autism—the measles, mumps, rubella, or MMR, vaccine.
The editor-in-chief of the BMJ declared Wakefield's paper to not only have been inaccurate but the product of fraud. In an accompanying article the British investigative journalist Brian Deer, who had been on Wakefield's case for many years, showed how Wakefield manipulated data in his attempts to prove something that he "knew" before he started his research.
Remarkably no one has wondered why the BMJ was so eager to track down the sins of Andrew Wakefield regarding vaccination but so willing to engage in a highly dubious smear campaign against the WHO on the very same subject.
It is most certainly true, as two just-published important books about the mayhem and death caused by the antivaccination movement by Dr. Paul A. Offit, Deadly Choices, and Seth Mnookin's The Panic Virus, show, that Wakefield did enormous damage. And that he is a charlatan and a fraud.
Offit and Mnookin rightly condemn the raft of celebrities and media lights including Oprah Winfrey, Ariana Huffington, Larry King, Jenny McCarthy, Bill Maher, and Jim Carey who promoted Wakefield's vaccines-cause-autism blarney. Various "patient" groups, such as Generation Rescue and Barbara Loe Fisher's scurrilous National Vaccine Information Center, piled onto the vaccines-autism link and are called to account. Offit points the finger of blame for the promotion of antivaccine nonsense at prominent celebrity doctors including Bernadine Healy, Robert Sears, and Mehmet Oz who chimed in with worry as well.
Giving antivaccine propagandists a bully pulpit has worked. In a study done last year one in four American parents admitted they felt vaccines cause autism. And at least 8,000 cases of whooping cough including 10 infant fatalities occurred this past year thanks to parents heeding the sage scientific advice of Bill Maher, Dr Bob Sears, and Jenny McCarthy. This despite the fact that no one had ever replicated Wakefield's findings and no other studies had found any link between autism and vaccines.
Both books show how the media has fallen hook, line, and sinker for unfounded antivaccine messages. Sometimes it is because in their search for balance, Jenny McCarthy and Barbara Loe Fisher are squared off and thus equated in terms of credibility with pediatric infectious disease experts like Offit. Sometimes, as Mnookin rightly notes, it has been because our society is eager to embrace anecdote, intuition, and experience as on par with evidence, logic, and reason. We credit moms with stories to tell just as much as peer-reviewed articles because science lacks emotional force. And sometimes the media promotes antivaccine messages because fear abhors an explanatory vacuum. When you don't know why your child is autistic and so many others are too and science cannot say for certain what the cause is then vaccines are as good a reason as any.
What is understated in both books is calling to account mainstream medicine and government institutions over their role in promoting antivaccine beliefs as occurred in response to the H1N1 pandemic that wasn't. It is great that the BMJ has shown Wakefield to be not just in error but also fraudulent. But, what about their ominous suggestion that big pharma called all the shots in pushing WHO experts to endorse global vaccination against H1N1 flu? And is the Parliamentary Assembly of the Council of Europe really telling the world that the WHO acted as it did in response to worries in 2009 about a scary flu outbreak in Mexico as a result of being led by the nose by Merck, Glaxo, and Sanofi who sought to line their pockets by hiring and then manipulating scientific experts to freak out the WHO? And why are the CDC and other government agencies so willing to kowtow to vaccine know-nothings like Fisher or to put up with unsubstantiated claims about vitamins and natural remedies instead of speaking up loudly and unequivocally in defense of vaccines?
The media and celebrity doctors alone did not convince so many parents that vaccines are dangerous. Mainstream institutions and medical journals did so too, and still are.
It is just irresponsible to suggest that some sort of conspiracy led WHO to pull the wool over the world's eyes and have everyone get vaccinated to line the pockets of their pharma puppet-masters. The WHO cannot make anyone do anything. It has no power to enforce any mandate or requirements about vaccines or anything else. It relies completely on persuasion. Without the cooperation of individual world governments, medical societies, and public health agencies the WHO can get nothing done. All these entities, including the Parliamentary Assembly of the Council of Europe, would have to be in the pocket of big pharma to impose a worldwide vaccination plan.
The Council of Europe and the BMJ seem to have forgotten their recent history. When H1N1 first appeared there were plenty of scientists from all sorts of nations with all sorts of affiliations who worried that it might prove extraordinarily lethal. In 2006 The Lancet published a study led by Christopher Murray of Harvard's School of Public Health, an outfit not known to be under the control of big pharma, that worried that pandemic flu could cause as many as 62 million deaths. True, it did not. But, what would BMJ or the Council of Europe have had the WHO and public health agencies do in the face of such concern—nothing? A large-scale vaccination effort was the only prudent course to take.
Keep in mind that when the call for an inquiry was issued by the Parliamentary Assembly of the Council of Europe, at least 14,711 people worldwide had been killed by the H1N1 pandemic. That is not 62 million but it is a lot of deaths. Since, as of November 2009, over 65 million doses of vaccine had been administered in 16 countries. Who is to say that the death toll might have been far worse but for the vaccination campaign?
And as for profits from launching a worldwide flu shot campaign—you have to be kidding! Flu shot manufacturers make very little from flu shots. If you can make 65 million swine flu doses quickly that is probably 65 million regular flu shots they do not make. If you posit say a three or four dollar profit on every H1N1 flu shot made, a limit of say 250 million flu shots that could quickly be made and ignore the impact of all this on making regular flu the entire vaccine industry stood to share in about $1 billion to  $1.5 billion from going crazy trying to make and ship as much H1N1 vaccine as possible. If the council of Europe or the BMJ thinks the main flu shot manufacturers would go out of their way to manipulate the world's vaccine experts to make a few hundreds of millions of dollars each then they don't know what pharma thinks of as profits that really matter.
The Offit and Mnookin books tell important stories of how panic and fear due to an indulgent media and irresponsible fringe voices came to dominate too much of our thinking about vaccines. What they leave out is how mainstream medical publications and governmental institutions have fueled that panic and fear too. When mainstream medical journals and governments foster screwball conspiracy theories about pandemic flu instead of explaining how the world dodged a bullet they are part of the problem not the solution.
Arthur Caplan, PhD, is the Director of the Center for Bioethics and the Sidney D Caplan Professor of Bioethics at the University of Pennsylvania.
Comments on this article
By clicking and submitting a comment I acknowledge the Science Progress Privacy Policy and agree to the Science Progress Terms of Use. I understand that my comments are also being governed by Facebook's Terms of Use and Privacy Policy.