SCIENCE, CULTURED
The Creeping Death of Science Coverage
And How We Must—Must—Fight Back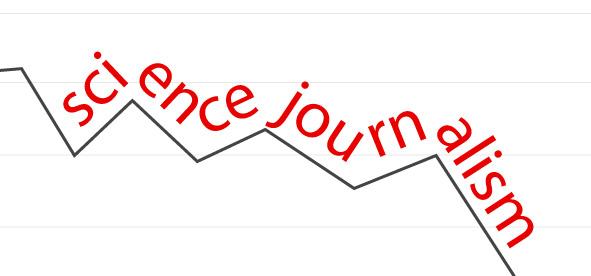 SOURCE: SP
A month and a half ago, I wrote here about the decline of newspaper science journalism, taking up the story of Peter Calamai of the Toronto Star, who recently took a buyout and ceased to be the paper's fulltime science reporter. One sad but central aspect of the story: When Calamai departed, not only was there no replacement, but there was also no public outcry. And that, in essence, is the tragedy of science journalism today. In hard economic times, what are media outlets going to get rid of: The section nobody will call in to defend, or the horoscope and sports pages?
Science, Cultured
Science Progress contributing editor Chris Mooney surveys the interactions between science, politics, and culture from Los Angeles, California. He is the author of several books, including The Republican War on Science and the forthcoming Unscientific America: How Scientific Illiteracy Threatens Our Future, co-authored by Sheril Kirshenbaum. He and Kirshenbaum blog at "The Intersection." (Photo: flickr.com/sarahfelicity)
Since then, the economic woes have continued, and so has the slaughter in the science journalism field. A few weeks back we learned that the Weather Channel, owned by NBC Universal, owned by General Electric, killed its "Forecast Earth" program, which focused on climate change and featured the respected on-air climatologist Heidi Cullen (it is unclear if she is leaving the network entirely). This occurred in the context of a 10 percent workforce cut—many experienced meteorologists were also let go.
And now we learn that CNN, owned by Time Warner, has let go of its entire science, technology, and environmental unit, including Miles O'Brien, respected producer Peter Dykstra, and numerous others. O'Brien, a veteran reporter, was known for being tough on science issues—including holding accountable Senator James Inhofe, the leading Republican global warming denier and a veritable misinformation machine. A CNN spokeswoman said the network wanted to "integrate environmental, science and technology reporting into the general editorial structure rather than have a stand alone unit," and observed that Anderson Cooper 360 will continue to cover our "Planet in Peril." But the fact is that with fewer science journalism experts on hand, we can only expect to see less science coverage over all from CNN, and worse coverage when we do get it.
Environment and energy issues appear (at least to me) to be growing in attention and interest, but covering them alone is no substitute for full-fledged science coverage.
Cable news was a tough place for science-related journalism even before the recession. In its 2008 "State of the News Media" survey, the Project for Excellence in Journalism found that in 2007, cable news outlets gave science and the environment drastically short shrift. If you were to watch five hours of cable news, the report noted, you could expect to see 1 minute of science and technology coverage and 1 minute and 25 seconds of environmental coverage—compared with 10 minutes of celebrity and entertainment content, 12 minutes of accidents and disasters, and "26 minutes or more" of crime.
But while cable news may carry less substantive science than some newspapers, let's not forget that science coverage is struggling across the board. The pinnacle of newspaper science journalism is the hallowed Tuesday New York Times science section, but as Andrew Revkin of the Times notes at his blog DotEarth, "we (like everyone in print media) are doing ever more with less."
Moreover, don't be fooled when a CNN, or some other outlet, points to its "green" coverage in order to underscore a continuing science journalism commitment. Environment and energy issues appear (at least to me) to be growing in attention and interest, but covering them alone is no substitute for full-fledged science coverage, any more than medical coverage or tech coverage are a substitute.
Science journalism should cover important developments in knowledge, where science is taking us, how science education and funding trends affect the competitiveness of the nation, science policy, and much else. Not only does science touch virtually every aspect of Americans' lives—from health to economics to the Internet—but the federal government finances an enormous amount of research and development with taxpayer dollars. This year, that amount was more than $142 billion. Informed citizens deserve to understand more about what they're getting from that investment. Medical, tech, and environmental coverage, though they may draw on science, rarely get into such areas.
Science journalism, at its best, should also be a vehicle for making ongoing advances in science relevant to non-scientist members of the public. Personalized medicine, designer babies, space militarization, geoengineering, brain-computer interfaces…how far away are such advances, and how will they affect people's lives? Science journalism should put such questions on everyone's radar, and then provide the best possible answers. It should help us forecast the future—and prepare us for it. Without such forward-looking journalism, we run a grave risk of not seeing what's coming until it's too late.
So what can we do? We have two options. We can continue to watch the economic contraction in the media business (witness the recent bankruptcy of newspaper giant Tribune Co.) destroy science coverage, and wring our hands whenever the latest dire news comes in. Or, we can take action to turn the tide.
For my part, I can say that the folks who created the ScienceDebate2008 organization are eyeing declining science coverage in the media and wondering how we might try to stick our thumbs in the dam. We're convinced that disinterest from the press was one of the key reasons that we couldn't get the candidates to commit to a live, televised science policy debate. Moreover, we know that while we've already lost a painful amount of science journalism, there is more yet that can be saved. However, it may require science defenders to actively raise money, whether by small donations over the Internet or bigger philanthropic ventures.
The CNN move last week did trigger considerable ire in the science blogosphere, so now may be the time to rally ourselves. My hope is to be able to write more, soon, about precisely how we can do so to greatest effect. In the meantime, I am very open to suggestions.
Chris Mooney is contributing editor to Science Progress and author of several books, including The Republican War on Science and the forthcoming Unscientific America: How Scientific Illiteracy Threatens Our Future, co-authored by Sheril Kirshenbaum. He and Kirshenbaum blog at "The Intersection."
Comments on this article
By clicking and submitting a comment I acknowledge the Science Progress Privacy Policy and agree to the Science Progress Terms of Use. I understand that my comments are also being governed by Facebook's Terms of Use and Privacy Policy.