STEM CELLS
Next Steps for Progressive Stem Cell Politics
Research and Values Together At Last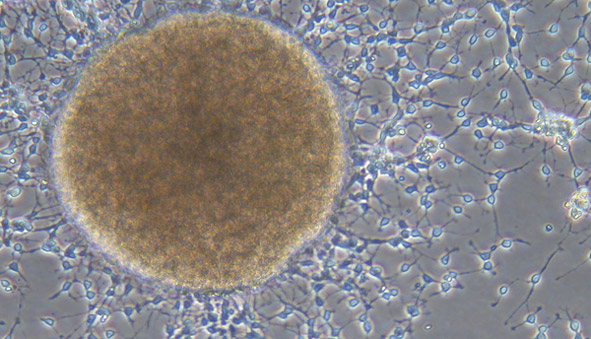 SOURCE: Ronald Kalil, University of Wisconsin-Madison
The long-awaited stem cell announcement expected soon after inauguration day will be a welcome corrective to the Bush administration's restrictions. As we anticipate a new policy—one that loosens federal funding for research using stem cell lines created with in vitro fertilization embryos not needed for reproductive purposes—let's also take a good look at how to change the politics of stem cell research.
For the past eight years, the stem cell debate has been notable for its divisiveness. Controversy formed along the embryo divide; many liberals and progressives came to their positions in reaction to the Bush stem cell policy and the theological beliefs that helped motivate it.
In several election cycles, embryonic stem cell research became both hot potato and partisan wedge. Opponents persisted in absolutist rejection, while supporters countered with promises of imminent cures for diseases that, in a frequent hyperbolic refrain, "affect 128 million Americans." The din of the stem cell war all but drowned out discussion of the non-embryo issues that stem cell research can pose.
But we should be able to conduct stem cell politics—and science politics in general—more thoughtfully and responsibly than has been the norm in recent years.
During these Bush years, some liberals and progressives registered their outrage at the limits on stem cell funding by decrying the "politicization of science." However warranted the outrage, the implications of the formulation are troubling. It's not possible or desirable to take politics or values out of science; efforts to do so usually wind up hiding rather than taming partisan motives, commercial prerogatives, and special interests. But we should be able to conduct stem cell politics—and science politics in general—more thoughtfully and responsibly than has been the norm in recent years.
In fact, values and commitments close to the core of liberal and progressive worldviews—including health equity, democratic governance and responsible regulation, and safeguarding research subjects—have been at stake all along. The end of the Bush era, important for so many reasons, also gives us the opportunity to adopt a more nuanced approach to stem cell and human biotechnology research and applications. We now have the political space to craft a pro-research stand that simultaneously highlights the need for consistent and enforceable regulation, for hope without hype, and for developing human biotechnologies according to principles of social justice and human rights.
These principled reasons for a new stem cell politics are bolstered by practical considerations. Since 2004, a solid but not overwhelming majority of Americans have favored embryonic stem cell research. According to the VCU Life Sciences Survey, the longest-running and most detailed sampler of Americans' sentiments about stem cells and other biotechnology issues, the number has hovered between 53 and 58 percent. Partisan differences are significant, but perhaps not as much as you'd think: in 2007, 65 percent of registered Democrats, 54 percent of independents, and 42 percent of Republicans supported embryonic stem cell research.
These and other surveys show that Americans are hopeful about the eventual benefits of stem cells and other new human biotechnologies. But nothing in them suggests a willingness to write blank checks or bestow unconditional approval. In most surveys, for example, close to 90 percent of Americans reject reproductive cloning. Only a small portion of this opposition is based on perceptions of its physical danger. Commonly cited reasons include beliefs that it is "morally wrong," "interferes with human distinctiveness and individuality," or "could be used for questionable purposes like breeding a superior race." And Americans remain evenly divided on the use of cloning techniques in stem cell work.
In short, many Americans are wary about potential misuses of human biotechnologies. While most are likely less than fascinated with policy details, they do care about integrity and accountability in the conduct of research, and about the moral meanings and social consequences of human biotechnology research.
What might this mean for the next steps in public discussion of stem cells? Here are a few specifics about how progressive principles can inform political discourse and public policy:
As the new administration explains its stem cell views to Americans, and as congress members prepare expected stem cell legislation, they should continue to emphasize the importance of ethical regulation and effective oversight.
Commitment to democratic governance counsels that the new rules of the road apply to research whether it is publicly or privately funded. They should be enforceable, not voluntary.
Procedures and structures for determining stem cell regulations, including review boards and higher-level committees or councils, should include a much fuller range of public constituencies, and should be free of conflicts of interest.
The public interest—including equitable access to the benefits of biomedical and biotechnology research—should be a priority value in decisions about broad funding directions, patent policies, and commercialization policies.
We should all take a sober look at the exaggeration and hype that's tainted the stem cell debate. Responsible science—and responsible science reporting—entail realistic accounts of a given line of investigation's prospects, and refrain from exaggerating the likelihood and imminence of breakthroughs and cures.
The stem cell wars have provided a great example of how not to conduct the politics of science. A new chapter in the stem cell story could be good both for science and for efforts to bring social justice values and democratic accountability to the development of genetic, reproductive and biomedical technologies.
Marcy Darnovsky, PhD, is associate executive director of the Center for Genetics and Society.
Comments on this article
By clicking and submitting a comment I acknowledge the Science Progress Privacy Policy and agree to the Science Progress Terms of Use. I understand that my comments are also being governed by Facebook's Terms of Use and Privacy Policy.