ENVIRONMENTAL POLICY
Nor Any Drop to Drink?
Aggressive Action Needed to Step Up Water Conservation, Efficiency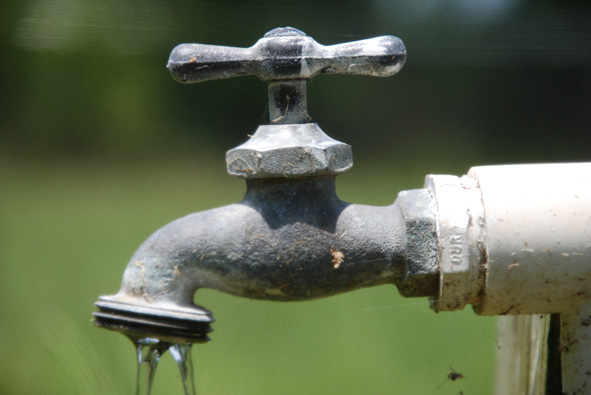 SOURCE: flickr.com/danmuntz
I recently read a compelling essay in Joseph Kinsey Howard's classic 1946 anthology, "Montana Margins," in which a young mother arrives at a high plains homestead town and faces the reality of scraping a living off a dry land. Of all the indignities she must grow accustomed to, the most challenging is the ritual of receiving every drop of household water from the "water man," who allows only one barrel per family at a time, and no more than three barrels per week. When she asks whether she can possibly purchase more, he responds, "Everybody does without all he wants so's everybody kin have. . . . Don't let it knock yer props from under yuh, Mrs. Gray. You'll git along better'n you think fer."The short piece left me wondering at how this mentality contrasts with our profligate and mostly unthinking use of water today. Perhaps a little sensibility of the water wagon would make a person think twice before hosing off the driveway, installing a full acre of Kentucky bluegrass lawn, or responding with indifference to stories of dewatered streams and depleted aquifers. In short—although few would choose to return to the privations of frontier life—we could use a reminder that water is our most precious resource, especially in the arid regions of the Rocky Mountain West.
Water shortages are all measured in relation to the choices we make about how we use this resource.
Granted, we are periodically reminded that water is a limited resource. In recent years, residents of Georgia learned that their water supplies might not be up to the challenge of meeting projected growth demands. California's Governor Schwarzenegger recently declared a statewide drought emergency. And, although this year's snowpack has relieved the Colorado River system's most immediate shortages, thirsty cities such as Las Vegas continue their quest for distant and increasingly expensive water supplies.
Last May, the House Science and Technology Committee held a hearing on "Water Supply Challenges for the 21st Century," which included thoughtful testimony from one of the lead authors of last year's influential report of the Intergovernmental Panel on Climate Change. "Drought is not a purely physical phenomenon," remarked Dr. Roger Pulwarty, "but is an interplay between water availability and the needs of humans and the environment."
In other words, water shortages are all measured in relation to the choices we make about how we use this resource. And, as with all value-laden public policy choices, science and technology will not tell us how to make our decisions. But improved scientific understanding and a broader array of technology tools can help us sort through the challenges of water management and allocation.
In response to these and other observations about water supply challenges, Rep. Jim Matheson of Utah introduced H.R. 3957, which would establish a research, development, and demonstration program within the Environmental Protection Agency's Office of Research and Development aimed at encouraging water conservation and efficiency improvements. The bill passed the House and was referred to the Senate at the end of July.
The EPA recently concluded a public comment period on its National Water Program Strategy: Response to Climate Change. In comments submitted to the agency and outlined in a previous Science Progress column, Western Progress praised the report's acknowledgment of the important role that water conservation will play in both mitigating the production of greenhouse gases and in adapting to the changes already underway as a result of climate change. Thus, it is encouraging to see congressional movement to give a boost to the agency's work on this subject.
Another piece of legislation, currently in discussion draft, would attempt to coordinate federal water research efforts through establishment of an interagency committee charged with implementing a "National Water Research and Development Initiative." Introduced by Rep. Bart Gordon of Tennessee, the bill would provide additional support for increasing water supplies through greater efficiency and conservation.
Calls for conservation and efficiency improvements are not new, but the pressures to stretch our limited water resources are becoming more intense as we face the dual challenges of population growth and climate change. The private sector is responding with innovative new technologies to reclaim wastewater and treat brackish groundwater for domestic uses. It only makes sense that the federal government steps up to encourage and, in some cases, mandate improvements that meet growing human needs while protecting the important values of water in our environment.
Sarah Bates is the deputy director for policy and outreach at Western Progress, a nonpartisan regional policy institute dedicated to advancing progressive policy solutions for the Rocky Mountain West. She has written extensively on western water and natural resources law and policy, and was a contributing writer to the congressionally chartered Western Water Policy Review Advisory Commission.
Comments on this article
By clicking and submitting a comment I acknowledge the Science Progress Privacy Policy and agree to the Science Progress Terms of Use. I understand that my comments are also being governed by Facebook's Terms of Use and Privacy Policy.